Open Inspection Program
Accommodation providers are invited to participate in the Open Inspection Program run between January and April of each year.
The purpose of this program is to help accommodation provider's efficiently fill their vacancies, without having to make multiple visits to their property to host separate inspections.

Accommodation providers can self-nominate to participate in the program by advertising an open inspection time on their active Houseme listing. When a provider chooses to participate, their listing will appear in the Open Inspection Lists available online to students searching for accommodation near each campus.
Program Rules
The program only operates from 1st January to 31st April (subject to change depending on demand)
Open times can be advertised outside of these months, but will not be added to the 'Open Inspection List'
Accommodation providers must be at their properties during their nominated times to show students the property
Open dates and times will not be advertised more than 7 days in advance
Open times cannot be added or amender over the weekend
The service cannot guarantee students will attend your advertised open inspection
Listing will be removed from the Open Inspection List within two business day of the advertised open concluding.
How to self-nominate for the Open Inspection Program

Decide the date/s and times you would like to conduct your open inspection
Log into your account on the Houseme database
Add at new listing, or make changes to an active listing
Add a line of text at the top of the details section in your listing including the date and time your inspection will be held.
Example: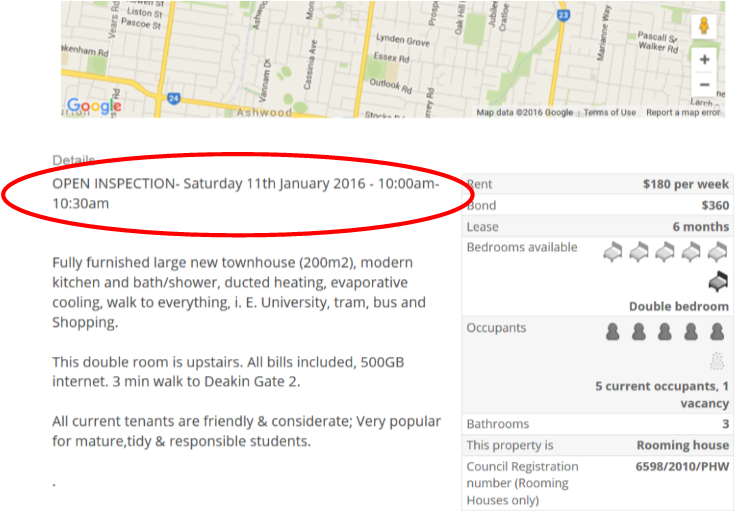 How your property will be added to the 'Open Inspections' list

On approval of your listing a tag will be added to your property that will include it in an online 'Open Inspection List'. Each week, this tag will be automatically removed from your listing. It will be your responsibility to re-nominate your property to participate in the following weeks open inspections.


How to cancel an open inspection
If you nominate to participate in an open inspection, but wish to cancel prior to the inspection, simply make changes to your listing to remove the open inspection line of text, and upon approval, you will be removed from the inspection list. This must be done at least 24 hours before your nominated inspection time if on a weekday, and at least 48 hours prior for a weekend inspection time.
Please do not call the service to be added or removed from an inspection list. Please follow the online process if you wish to participate.